Titanium-Aluminum Alloy Target
Views: 2 Author: Site Editor Publish Time: 2017-05-22 Origin: Site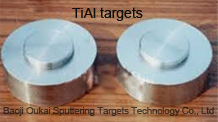 Baoji Oukai's targets and cathodes made from titanium-aluminum (TiAl) ensure that drills, milling machines, indexable cutting inserts and other tools are protected by a hard, oxidation-resistant nitride coating (TiAlN).

  High feed speeds, excellent cutting performance and impressive metal removal rates: not a problem for titanium-aluminum-based coatings. A coating of just one thousandth of a millimeter of our materials reliably protects your tools against wear and therefore extends their service life. TiAl targets and cathodes are also used for decorative coatings on electronic devices such as cellular phones, on spectacle frames or on the dials of luxury watches.
  Our materials are applied using either the reactive magnetron sputtering method or arc evaporation and form in a nitrogen atmosphere a nitride hard material layer on the substrate.
  Our TiAl alloy targets are popular due to their:
  High ductility
  High thermal conductivity
  Homogeneous microstructure
  Unbeatable level of material purity
  Whatever the geometry - rotary or planar arc cathodes or planar sputtering targets: Baoji Oukai can supply tailor-made targets that are perfect for your application.