Sputtering target market to exceed $540 million
Views: 0 Author: Site Editor Publish Time: 2017-07-19 Origin: Site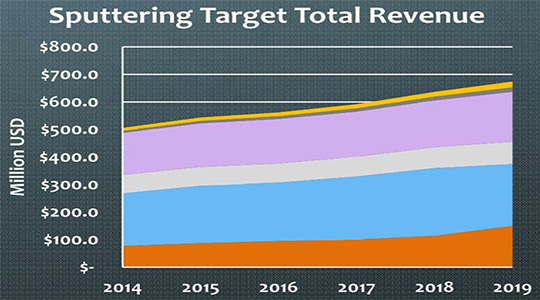 Sputtering targets are available in a range of precious and non-precious materials, including pure elements or compounds and alloys, and might include precious metals like gold, palladium, and platinum.
  According to TECHCET's latest analysis, revenue growth in this market in 2016 is tempered by the level pricing of copper and titanium, while increasing revenues are lead by tantalum (Ta).
  Continued shrinking of existing commercial IC devices has led to problems with the RC-delay of on-chip interconnects, along with challenges in filling the most advanced physical contact with cobalt. Tantalum-nitride (TaN) layers remain in use as interconnect barriers despite earlier predictions, so the market for Ta targets is still strong despite expectations of a shift to CVD/ALD barriers.
  Fabrication costs are beginning to dominate prices for copper, titanium, and aluminium targets, the company added.
  "The estimated CAGR [compound annual growth rate] of 4.8% will bring the market to a projected $640m by 2019, after a disruption in 2018 caused by the high volume manufacturing (HVM) of PCRAM and 3D-NAND memory chips," said Terry Francis, Sr. Analysts of TECHCET and lead-author of the recently released Critical Materials Report on Sputtering Targets.