About target binding for backplane
Views: 5 Author: Site Editor Publish Time: 2017-04-24 Origin: Site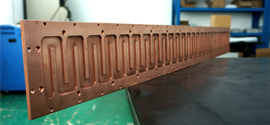 Target binding for backplane couldn't make target deform, and the atoms which sputtered from target can be rapidly and uniformly adhered on the substrate to form a high-quality film layer.
I. The definition of target binding
Target binding refers to the welding of the target with the back target. There are three main methods: crimping, brazing and conductive adhesive.
1.Crimping: using layering in order to improve the quality of contact, will increase the graphite paper, Pb or In leather.
2.Brazing: In the case of soft solder, the sputtering power is less than 20w/㎡.and the solder usually uses In, Sn, In-Sn.
3.Conductive adhesive: conductive adhesive will be resistance high temperature, and the thickness is 0.02-0.05 microns.
II. The choice of back target
1.Requirements for materials: Generally using oxygen free copper and molybdenum target. the thickness is about 3 mm.
2.Good conductivity:Generally using oxygen free copper,The thermal conductivity of oxygen free copper is better than red copper.
3.Enough strength: back target is so thin that it can distort, and it is difficult to vacuum seal.
4.Requirements for structure: hollow or solid structure.