About rotatable targets
Views: 5 Author: Site Editor Publish Time: 2017-06-05 Origin: Site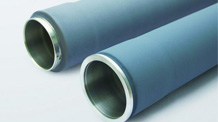 Rotatable target technology has been used in large area coating manufacturing of architectural glass and flat panel displays.
  Rotatable targets have several advantages over planar targets. Rotatable targets normally contain more material and offer a greater utilization in comparison to planar targets. This in turn results in much longer production runs and reduced downtime of the system. The overall benefit is an increase in the throughput of the coating equipment. Secondly, the rotatable targets allow the use of higher power densities due to the heat build-up being spread evenly over the surface area of the target. As a consequence, an increased deposition speed can be seen along with an improved performance during reactive sputtering.
  Baoji Oukai Sputtering Targets Technology Co.,Ltd. are now supplying cylindrical targets which are manufactured in many sizes, ranging from 2 up to 8.625 in diameter, with lengths from a few inches up to 160 inches.
  The most commonly used C-MAG rotary targets are available in Chromium, Silver, Aluminium-Silicon, Tin, Titanium Oxide, Stainless steel, Aluminium, Tungsten, Tantalum, Molybdenum, Niobium, Copper and Zinc alloys.
  The standard manufacturing methods are plasma spraying onto the base tubes, casting and extrusion of the complete assembly.
  If you need non-standard size product, please click Contact us for our custom product enquiry form.